Caught in Spidey's Web: Who is Calypso?
Born in Haiti, the priestess Calypso Ezili studied and wielded powerful arcane magic. She would soon be known to those who crossed paths with her as 'The Witch' and 'Hunter of Souls.'
Introduced over 40 years ago, she has proven herself a for
Born in Haiti, the priestess Calypso Ezili studied and wielded powerful arcane magic. She would soon be known to those who crossed paths with her as 'The Witch' and 'Hunter of Souls.'
Introduced over 40 years ago, she has proven herself a formidable opponent for our New York heroes, Spider-Man and Daredevil.
Want to know more about this unyielding sorceress? Keep reading!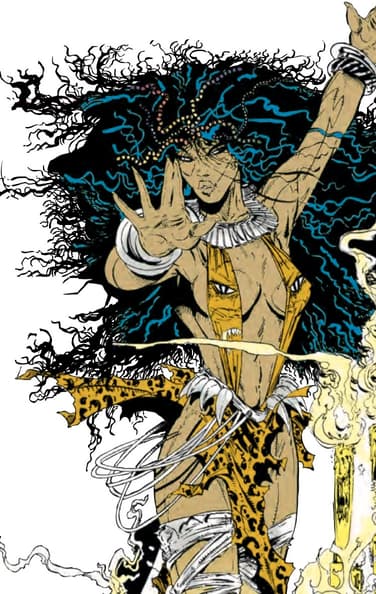 FIRST SPELL
Calypso made her first appearance on the page of THE AMAZING SPIDER-MAN (1963) #209 as Kraven the Hunter's paramour. 
Thrilled with the hunt, and disappointed that Kraven had dropped his pursuit of the wall-crawler, Calypso manipulated and pressured the Hunter to return to "greatest" as he wasn't getting any younger and just letting his talents go to waste.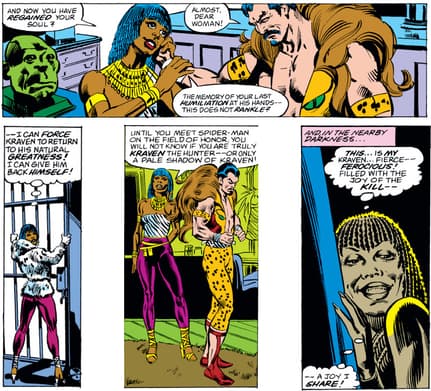 THE AMAZING SPIDER-MAN (1963) #209 interior panels by Alan Weiss
IT'S DARK MAGIC, BABY
Her time on a small Caribbean island was spent envying the tribal heads who wielded ancestral power. Calypso devoted herself to the practice of arcane magic to satisfy her deep hunger for power and control. Drawn to the darkness and evil, she welcomed the sacred ceremonies that required a blood sacrifice, easily making the kills necessary to be her own master.
After the death of Kraven, she needed somewhere to focus her lust and direction, even taking on his hatred for Spider-Man. Obsessed with not just being a witch, but the Witch, she didn't hesitate sacrificing her younger sister—securing her second kill, and first soul. This was just the start; the number of souls she has taken is staggering.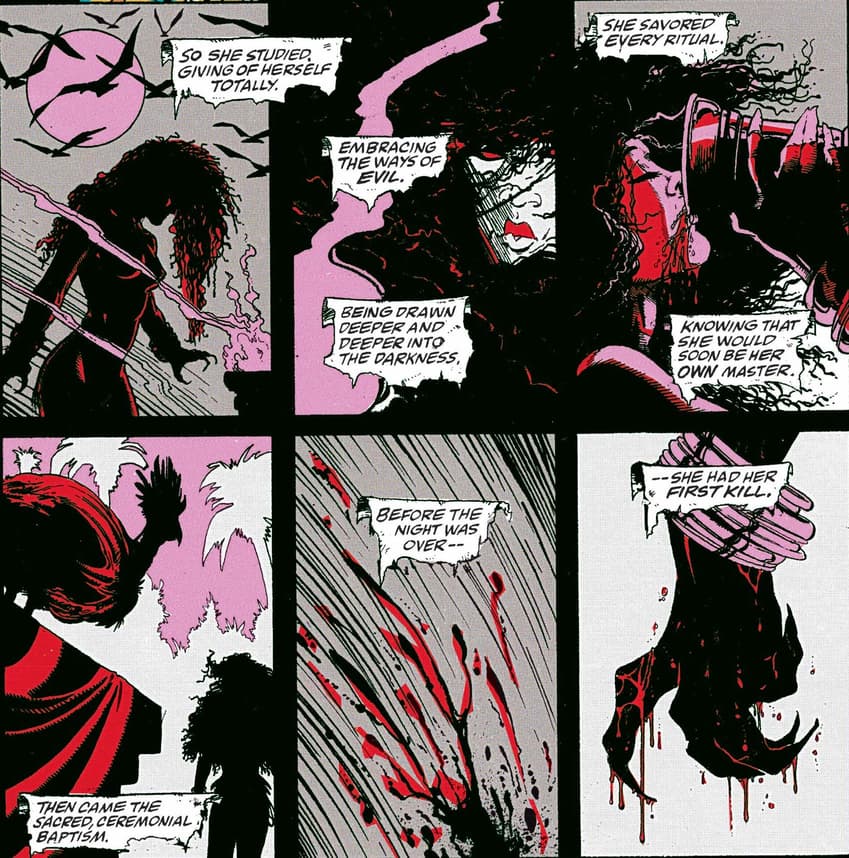 SPIDER-MAN (1990) #4 interior art by Todd Mcfarlane
INSATIABLE DESIRE TO TORMENT AND TOY
With her heightened powers, Calypso mastered mind control, rituals, poisons and spells, and resurrection. She also has the ability to dull Spidey's spider-sense, control animals, and harness the evil spirits that serve her. In taking over her sister's possessions, she found herself able to control over her servant, the Nameless One, a strong zombie. Her power would soon take on the ability to zombify others as well as possess their bodies. She has spared herself from death by resurrecting herself.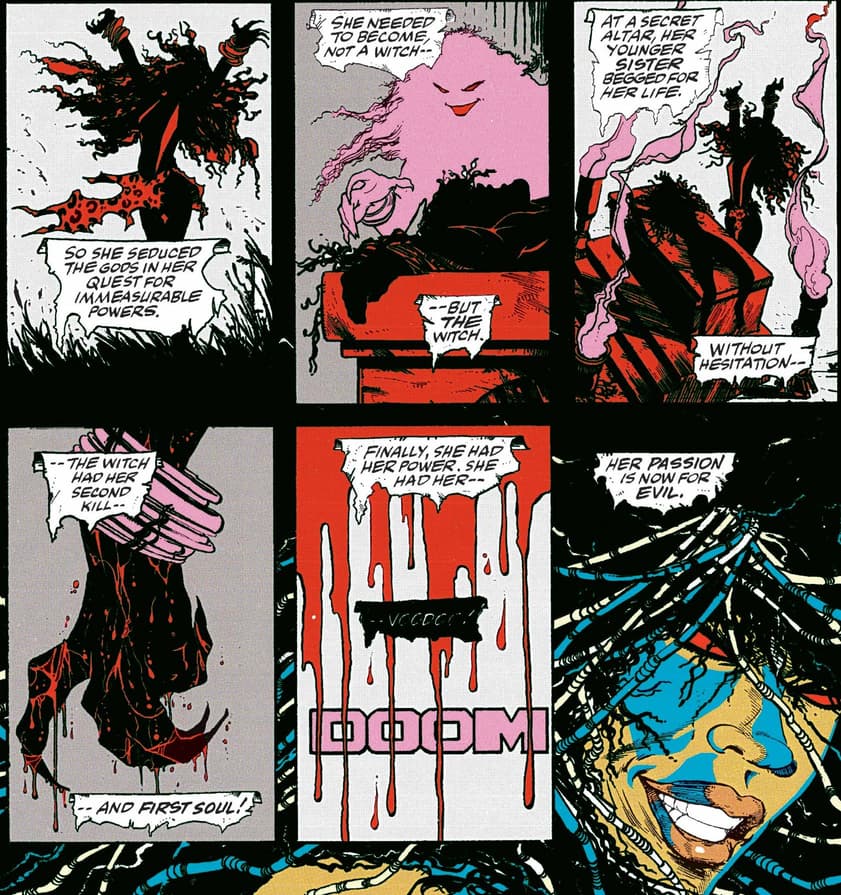 SPIDER-MAN (1990) #4 interior art by Todd Mcfarlane
SUMMONING THE RAGE
During a five-part story arc titled 'Torment' (SPIDER-MAN (1990) #1-#5), her hatred for Spider-Man reached its boiling point as she blamed the web-slinger for the Hunter's death in 'Kraven's Last Hunt.'
Armed with her potions and incantations, Calypso took over the Lizard's will and possessed his mind, aiding her in her takedown of Spidey. With Calypso's spirit drums pounding in their minds, she drew them both into a savage and fierce frenzy. With all three near death, following a building explosion, Calypso lived to see another day by faking her death by summoning some magic and having another building collapse on herself.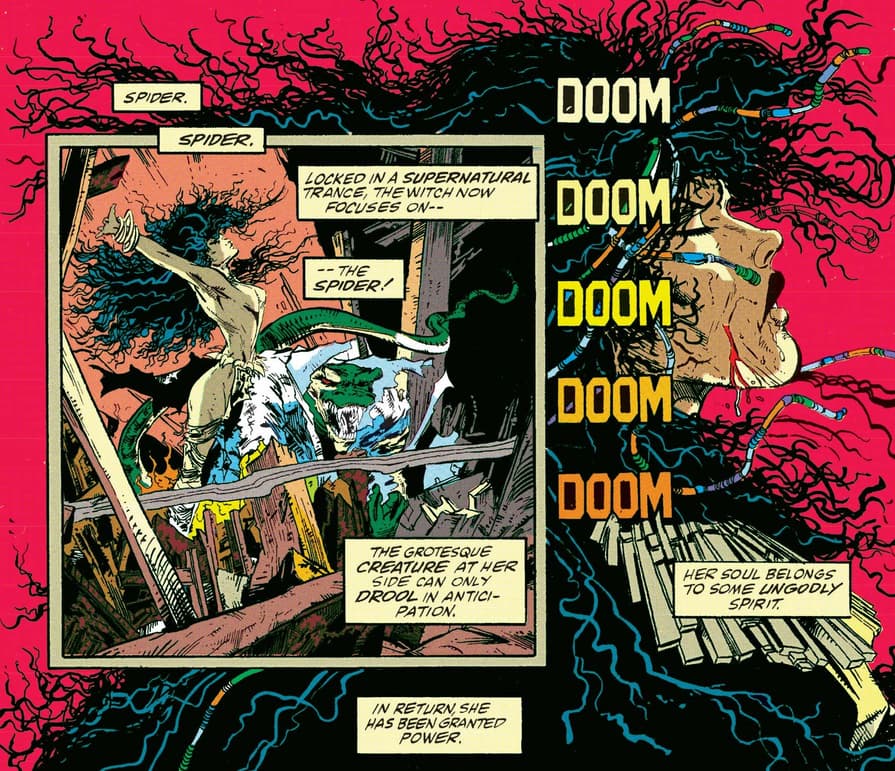 SPIDER-MAN (1990) #5 interior art by Todd Mcfarlane
CONTROLLING THE (DARE)DEVIL
Interested in resurrecting Kraven, Calypso found herself in Hell's Kitchen with the Nameless One.
Believing she found her former paramour's old foe, Daredevil, she pursued the red demon hoping to triumph over him. Impaling the beast with its own severed horn, Calypso was disappointed to find out it wasn't Daredevil, but his doppelgänger, Hellspawn. The real Daredevil was able to defeat the Nameless One, but the Witch was able to best the Man Without Fear, transforming him into her new Nameless One servant, who was mystically bound to her. Together, they captured Haitian refugees within the city as she transformed them into more zombies.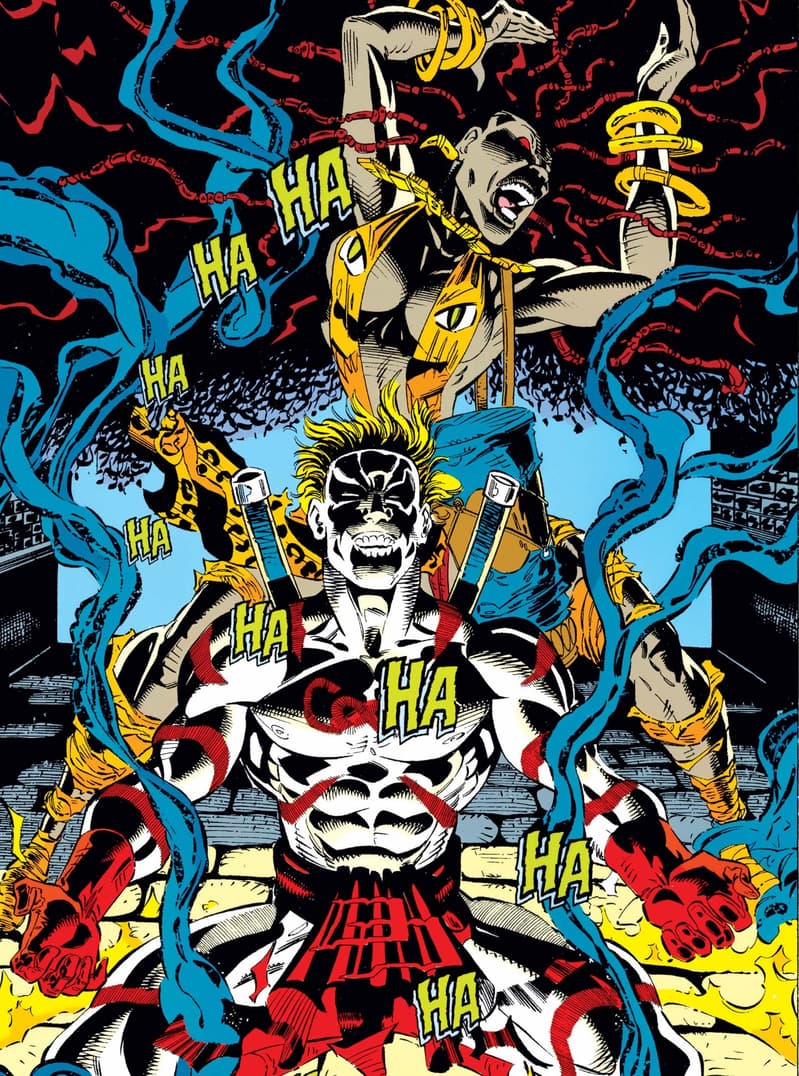 DAREDEVIL (1964) #311 interior art by Scott Alan McDaniel

Marvel studios wanted Tiger Shorff to play SpiderMan
Tiger Shroff, an actor, claimed that when he applied for the Spider-Man part, he pitched Marvel with the idea that they could save a lot of money on the visual effects because he could perform many of the stunts themselves in front of the camera. He also stated that he aspires to be a global superstar like Jackie Chan and Bruce Lee because there hasn't been one in a long time, especially in the action field.
The actor discussed his desire to work in Hollywood during an interview with Connect FM Canada, adding that he had had some promising chats about it. He claimed to have had the privilege of meeting several illustrious locals, and they all seemed to be pretty interested in what he does. There hasn't been a crossover action hero since Jackie Chan.
Tiger Shorff had previously mentioned going to Hollywood auditions for projects, but during this conversation he revealed for the first time that one of those projects was Spider-Man. He claimed that after sending them his audition tapes for Spider-Man, they were incredibly impressed. The actor from Student of the Year 2 pitched them on how he could have performed many of the stunts personally, just like Spider-Man, saving them a lot of money on the visual effects. I came very, very close to taking part in that.
The actor's subsequent film appearance will be in Ganapath.
Will Aldrich Killian from Iron Man 3 Return to the MCU? Do you remember him?
Guy Pearce, who plays Aldrich Killian in Iron Man 3, affirms that he hasn't given up hope that the character will return to the Marvel Cinematic Universe.
Killian Aldrich's return to the Marvel Cinematic Universe is still a possibility, according to Iron Man 3 actor Guy Pearce.
Pearce talked about the future of his evil character in an interview with ComicBook.com. He responded:
"I can't say. "I'm still waiting for Marvel to respond to my email. I'll let you know even though it's been a while. Actually, I haven't [heard from the studio], so no. In light of what happened to Aldrich Killian at the end of Iron Man 3, I've probably just written the notion off, but in those universes, pretty much anything is possible, and yet I haven't heard from anyone at Marvel. In light of this, I'm not sure if it's in the works, but who knows."
Despite Killian's apparent demise in the pivotal battle of Iron Man 3, the Australian actor has often expressed interest in making a comeback in the Marvel Cinematic Universe. Pearce has made it plain that he does not believe that Killian's severe wounds from that movie are sufficient to render him permanently disabled, citing the creator of A.I.M.'s extraordinary regeneration talents as evidence that he may have lived. The future plans for Killian have not yet been made public by Marvel Studios, and Pearce is not currently involved in any MCU projects.
A Favorite Character of Fans Was Nearly Killed Off in Iron Man 3.
Although the only significant character to pass away in Iron Man 3 was Aldrich Killian, Marvel Studios President Kevin Feige has previously stated that this wasn't always the case. Feige revealed that until actor Jon Favreau successfully lobbied for him to be spared, Tony Stark's loyal head of security Happy Hogan was also expected to leave the franchise. At that moment, Favreau added, "It's true, it's true." "They made accommodations, and I'm thrilled to have been a part of this and to have been there alongside [Spider-Man actor] Tom Holland from the start," she said.
Iron Man 3 still had a lot of surprises for viewers, even without Happy's death sequence. A notable story point that Feige continues to support is the movie's introduction of a false version of the legendary Marvel villain The Mandarin. He said, "[Iron Man 3 director] Shane Black came up with this hilarious twist that we enjoy to this day, and [Mandarin] turned out to be Trevor Slattery in his film and his script that he co-wrote." "Just because that version wasn't true doesn't mean the Ten Rings organization doesn't have a leader, and we first meet that leader in Shang-Chi."
Doctor Strange 2 : Scarlet Witch vs. Strange Deleted Fight Scene – FanArt
Doctor Strange in the Multiverse of Madness stunned fans straight away by revealing that the Scarlet Witch will be the film's principal adversary. This res
Doctor Strange in the Multiverse of Madness stunned fans straight away by revealing that the Scarlet Witch will be the film's principal adversary. This resulted in some really fantastic battle sequences between the MCU's two most powerful magic-wielders, but there's been a lot of talk about more of it appearing in deleted scenes.
The majority of that attention has been focused on the sequel's abandoned opening scene, in which Wanda Maximoff would have killed Earth-616's Baron Mordo. She would have decapitated him and gave Strange the severed head when they first met at the farm, leaving little mistake about who Strange would face during Doctor Strange 2.
Over the last several months, concept art has also hinted more deleted sequences, including a flashback to Strange losing his sister at the lake and a tease showing the wicked Nightmare in action. Fans can now see more deleted Scarlet Witch action, which would have pitted her against Strange once again early in the Multiversal sequel.
Doctor Strange 2's Deleted Scarlet Witch Battle Illustrator David Allcock released a collection of storyboard drawings including a previously uncovered deleted sequence from Marvel Studios' Doctor Strange in the Multiverse of Madness through Twitter user @itsjustanx. This scenario would have pitted Doctor Strange against the Scarlet Witch as Strange and America Chavez jumped across the Multiverse after leaving Kamar-Taj.
Strange uses his magic to free Chavez from the Scarlet Witch's grasp while Chavez opens one of her star portals.
The scene when Chavez falls through with the blue light from her portal around her in-frame seems very similar to what appeared in the final cut of the film.
It would have had the Scarlet Witch really pursue Strange and Chavez into the star gate, employing images similar to those seen before when the villain was pushing through mirrors.
Along with Wanda pursuing the heroic team, they would have encountered other demons while traversing the Multiverse. There was even a chance they'd run across one of the more sinister Strange Variants, akin to how Earth-616's good doctor confronted Sinister Strange at the conclusion of the narrative.
As the Scarlet Witch pursued Strange and Chavez, she would release more of her actual power, which she had garnered while delving into the pages of the Darkhold.
In her chase, the villain would have seized Chavez by the wrist, however it's uncertain whether the action would have progressed as it did in the final edit of Doctor Strange 2.
Marvel Parallels Avoided With Deleted Scene?
With Doctor Strange 2 clocking in at little over two hours, it's hardly unexpected that so many deleted scenes and concept art have been published now that the film has come and gone. This sequence would have certainly added a couple of minutes to the running length, although it's unclear whether it would have come with the universe-jumping scene or taken its place entirely.
Furthermore, given Marvel's vast history, this deleted battle has some resemblance to another sequence seen by fans in 2017's Thor: Ragnarok, which starred Thor, Loki, and Hela. This three got into a similar brawl when Loki summoned the Bifrost to transport him and Thor to Asgard, prompting Hela to leap in and fling them over the rainbow bridge into the uncharted realms of space.
In the end, it looks that this confrontation between Doctor Strange and the Scarlet Witch was never even pre-visualized, since this is the first time fans have seen this scene shown in public. While it would have undoubtedly provided another fantastic combat scene to the already packed film, leaving it out maintained some of the emphasis on Strange and America as they began their first journey across the Multiverse.
Doctor Strange in the Multiverse of Madness is now available to watch on Disney+.