Season 2 of Loki: How Sylvie and Loki's Relationship Might Change In the Future 
The first season of Loki included several different versions of Marvel's God of Mischief, although the focus was primarily on two of them. The first was a version of the one played by Tom Hiddleston in the Marvel Cinematic Universe, only this one esc
The first season of Loki included several different versions of Marvel's God of Mischief, although the focus was primarily on two of them. The first was a version of the one played by Tom Hiddleston in the Marvel Cinematic Universe, only this one escaped with the Tesseract during the Time Heist in Avengers: Endgame, leading to his arrest by the Time Variance Authority. The second character was a female Variant named Sylvie, who was represented by Sophia Di Martino. 
Sylvie was kidnapped by the TVA when she was a youngster, but she managed to flee and spent the rest of her life on the run, always eluding capture by the organization. They finally hunt her down when the aforementioned Loki Variant joins the crew, but the two take a fancy to each other and vow to take down the TVA together. After several episodes of Loki and Sylvie meeting and bonding, their romance appeared to be over at the end of the season finale, "For All Time, Always," when the latter kissed the former only to send him back to TVA headquarters (which actually turned out to be a TVA of a different timeline). 
This, combined with Sylvie's final comments to Loki, "but I'm not you," illustrated how, although being the same person, their life experiences have led them down very different paths. 
A BRAND NEW LOKI 
The Loki team has made it plain that they didn't want to go over old terrain when bringing the character back for a new endeavor. Loki's film arc was always a cycle of working with someone and then betraying them, until his death in Avengers: Infinity War (admittedly, this description doesn't include all of the motivations and nuance that made Loki's film arc well-rounded, but those are the foundations of his thought and deeds). 
The tough element was making sure that the audience's previous voyage with Loki was still relevant in some manner, so they didn't feel like their time was wasted. 
Loki's growth arc in the series was kicked off by the events of his post-Avengers appearances, which inspired him to break free from his "set path" of being a villain and causing misery and suffering to others. 
Loki realized he couldn't go back in time before the end of the first episode, and Mobius' line "I can't promise you redemption, but maybe I can offer you something better" opened up a world of new options for Loki. 
The series' main narrative involves him learning to trust and form meaningful relationships, first with Mobius and then with Sylvie. Loki shut down the thought of betraying Sylvie in the penultimate episode, claiming "that's not who I am now," and finished the season by assuring her that he didn't care about power, only her well-being. 
YOUR LOKI IS SHOWING, SYLVIE. 
Sylvie was a Loki Variant, although her life was very different from the main character's. She was arrested by the TVA and her chronology was erased, leaving her entirely alone after her release and unable to build meaningful relationships until she met Loki. Even so, her experiences impaired her ability to trust, thus that didn't work out. While Loki was able to conquer his problems, Sylvie has yet to do so. 
Despite her attempts to separate herself from her status as a Loki Variant, Sylvie was shown to be remarkably similar to Loki in the first Thor film this season. 
"Sylvie is sort of where our Loki was in Thor," stated Loki director Kate Herron while discussing Season 1. She's motivated by vengeance, anguish, and rage." 
A LOKI ROLE CHANGE 
If Sylvie has been established as being in a position similar to Loki's when he first joined the MCU, Loki is in a position similar to that of his brother. 
Some have speculated that Loki concluded his film arc in the same way that Thor began his: brazen, brave, and desirous of being a hero, but not necessarily for the right reasons. 
After witnessing his life play out in the Time Theater in the first episode of the show, Loki finds himself in a similar situation, allowing the audience to see him progress and mature into a true hero, much like they did with Thor in his early cinematic appearances. 
Loki has allowed himself to be vulnerable with others at the end of the series, but Sylvie hasn't yet. She can't trust him, and he can't trust her, as Loki says, so they're stuck. 
Thor tried to get Loki to live up to his potential as a nice and heroic person before, and now Loki is attempting the same for Sylvie. He fails in the end, just like Thor did at first. Loki and Sylvie's journeys are just getting started, much as the brothers' following the first Thor film… 
LOKI SECOND SEASON Loki Season 2 
If Season 2 of Loki continues up where Season 1 ended on a cliffhanger, Loki and Sylvie will start the next batch of episodes in physically and emotionally distinct locations, with Loki at the TVA headquarters of an other reality and Sylvie either remaining inside the Citadel or somewhere else. 
Sylvie will most certainly avoid confronting Loki again; she has now understood that killing He Who Remains was a poor action that would not make her feel any better about the way her life has turned out, but she lacks the emotional maturity to overcome her pride and/or shame over the matter. 
Loki will be preoccupied with returning to the TVA he knows and stopping the numerous Variants of He Who Remains, so it's unclear whether recovering Sylvie will be a key priority for him. 
Regardless, it appears like the two will reunite at some point, most likely after both of them have gone through more trials and growth on their own. 
When that moment comes, one of the most pressing considerations will be whether Loki will forgive Sylvie for deceiving him and the havoc she wreaked. This essentially boils down to whether or not the incident between the two in the finale damages his capacity to trust her (and maybe others) or if he is able to forgive her based on the positive experiences and lessons he has gained. 
Loki feels some responsibility for what transpired in the Citadel, as evidenced by his statements in the finale's closing scene, which may indicate that he may forgive Sylvie more easily. Whether he accomplishes it right away or takes a bit, he will have done so by the end of Season 2. 
Sylvie, on the other hand, definitely has a lot of maturing to do, and perhaps, her realization of her major mistake will be the trigger for that growth. Throughout Season 1, there were hints of it in several of her scenes with Loki, but she finally returned to her original objective and what she had done her entire life. 
Sylvie's philosophy has failed her and left her with nothing, therefore it's time for her to branch out and open up to others. After all, she won't be able to ignore or cope with this new situation indefinitely. 
Loki's two primary Variants will eventually reunite, but they will almost certainly have to fight their own wars in the interim. Perhaps this will teach them the value of their special link, with Sylvie learning to trust and Loki learning to forgive. 
On Disney+, you can watch all six episodes of Loki's first season.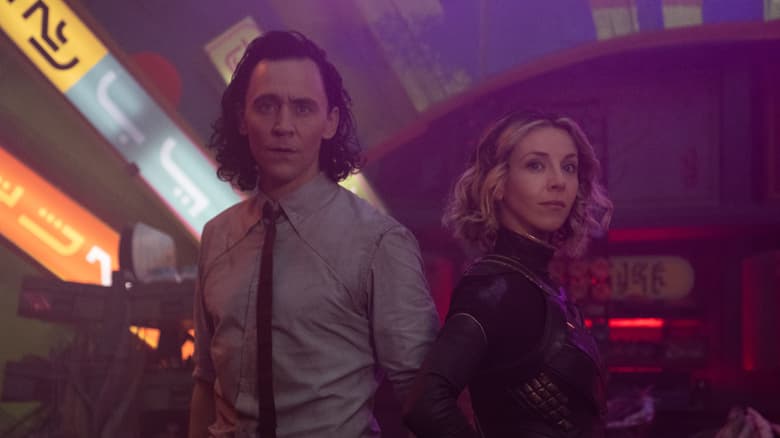 Marvel stars and BTS V will appear in a new reality series on Disney+
New reality series IN THE SOOP: Friendcation, will premiere on Disney+ next month.
Marvel stars: Park Seo-joon, Parasite's Choi Woo-shik, Park Hyung-sik (Soundtrack #1), rapper Peakboy, and member of BTS V will all be featured in this spinoff of the original IN THE SOOP series. They will all be seen relaxing together on a vacation.
According to the summary of the program, "This brand-new vacation reality series shows the buddies having time to enjoy nature and indulge in their favorite activities in the soop while hidden away from the world" (in the forest).
"Viewers will get to see the stars and best friends relax over a well-earned break away from the strains of day-to-day stardom" throughout the course of the four-episode series.
Choi is most known for playing Kim Ki-woo in the Academy Award-winning movie Parasite, and Park also had a brief appearance as Ki-friend. woo's He will now play an unspecified role in the upcoming July 2023 television series The Marvels.
Fans of BTS may presently watch the K-pop group's most recent movie on the streaming service, BTS: Permission to Dance On Stage – LA. The movie is a part of the group's contract with Disney+, which also includes the docuseries IN THE SOOP: Friendcation and BTS Monuments: Beyond the Star.
In order to pursue individual careers, BTS, which also consists of Suga, Jin, RM, J-Hope, Jimin, and Jungkook, recently revealed they will be taking a short break from one another. The group announced their choice on their YouTube site, adding that they intended to "spend some time apart to learn how to be one again."
IN THE SOOP: On October 19, Friendcation will make its Disney+ debut.
Armor Wars Movie: from Marvel Disney+ Series To A Film
Due to creative adjustments, the TV series starring Don Cheadle will now be turned into an MCU – Armor Wars movie. The most of the Disney+ series that Marvel Studios had planned have already been released, but Armor Wars has been stuck in development for a while. Even though it had been announced in 2020, James Rhodes' spinoff show hadn't received any updates until 2022. In 2008's Iron Man, Terrence Howard played Rhodes; in Iron Man 2, Cheadle took over as War Machine, and he has since continued to feature in several MCU projects.
Despite being a part of Phase 5, the Armor Wars TV series on Disney+ is being redesigned as an MCU – Armor Wars movie, with Don Cheadle remaining attached to play War Machine.
Due to creative adjustments, the TV series starring Don Cheadle will now be turned into an MCU – Armor Wars movie. The most of the Disney+ series that Marvel Studios had planned have already been released, but Armor Wars has been stuck in development for a while. Even though it had been announced in 2020, James Rhodes' spinoff show hadn't received any updates until 2022. In 2008's Iron Man, Terrence Howard played Rhodes; in Iron Man 2, Cheadle took over as War Machine, and he has since continued to feature in several MCU projects.
War Machine is followed by Armor Wars following Phase 3, which resulted in the demise of his closest friend, Tony Stark. The Disney+ drama will, according to confirmation, follow the events of Secret Invasion, in which Cheadle will next play the Marvel character. Despite Disney's commitment to creating the series, Armor Wars was not included in any of the Phases 5 or 6 slates that Marvel Studios presented at San Diego Comic-Con. One of the key Armor Wars stories, according to Cheadle in an interview from earlier this month, would include Tony Stark's technology going out into the open, with Rhodey having to stop the wrong people from using it.
The Hollywood Reporter has revealed that Armor Wars is being retooled into a feature picture, causing a significant shake-up within Marvel Studios. The company decided that a movie would be a better choice as opposed to a 6-episode series since they were dedicated to "having the tale conveyed the proper way." The movie's screenplay will be written by the film's head writer, Yassir Lester, who is still employed. Production had been planned to begin in 2023, but this most recent development has forced a postponement. The Armor Wars information was released shortly after the director of the Blade reboot was fired.
How the MCU Will Be Affected by the Filming of Armor Wars Movie
While Armor Wars' continual postponement is a problem in and of itself, Cheadle's character might gain from the film's decision. Despite the fact that War Machine has been in a lot of MCU movies, he has never been the main character in any of the plots. Despite Rhodes having his own show at first, a feature film offers him a greater stage for obvious reasons. Additionally, this would give War Machine his own cinematic prominence after serving as Iron Man's sidekick throughout the duration of the MCU. Marvel has adapted a product from one medium to another before, and Armor Wars is hardly the only instance of this. The Royal Family was supposed to have its own Phase 3 movie before The Inhumans became a TV show, but instead received a short series on ABC that had a poor outcome.
The length of Armor Wars' delay as a result of the move from Disney+ to theaters is yet unknown. Armor Wars may have to wait until Phase 6 even if it takes place after Secret Invasion unless Marvel discovers a window in Phase 5 that makes sense. Due to the enormous lag between the conclusion of Secret Invasion and the release of Cheadle's movie, it's probable that the tie-ins from Secret Invasion will be eliminated if Armor Wars is redeveloped as a feature film. There is a likelihood that Armor Wars was always a Phase 6 project because the slate wasn't fully revealed at San Diego Comic-Con. It is unclear how Armor Wars will fare as a movie unless Cheadle, Feige, and Marvel Studios make announcements.
Everything you need to know about Wolverine
Wolverine is a fictional character that appears in American comic books published by Marvel Comics, typically in conjunction with the X-Men. His real name is James Howlett, but he also goes by the aliases Logan and Weapon X.
How did Wolverine Became Popular?
Origin of Wolverine by Paul Jenkins Wolverine, the ol' Canucklehead, has certainly evolved from the idea of a Canadian superhero to being the finest at what he does. Wolverine, a comic book character whose stern, aggressive demeanor established the bar It became quickly obvious that his initial yellow-and-blue clothing did not conjure up images of a furious the early 21st century…
Here is some facts about Wolverine
Habitat. These hardy creatures live alone and require a lot of space to wander.
Diet. Wolverines are stubborn, so while they occasionally consume vegetarian food like plants and berries in the summer, it does not constitute a significant portion of their diet.

What role does Wolverine play in X-Men Apocalypse?
Professor Charles Xavier invites Wolverine to join up for his new superhero-mutant team, called the X-Men, where Logan creates a close friendship with Cyclops and Jean Grey. Later it was discovered that Xavier, erased Logan's memory and forced him to join the X-Men team by purpose. Professor X had to delete all Wolverine memories because he was sent to kill X-Men team leader a.k.a. – Charles Xavier.
James Howlett (Wolverine) is also called Logan and Weapon X. He is a mutant with three retractable claws in each hand and animal-keen senses. He also has heightened physical powers, a strong regeneration ability known as a healing factor, and animal-keen senses.
So Wolverine is from DC (Detective Comic) or MCU ( Marvel Cinematic Universe)?
Offten fans wonder is Wolverine a DC or a Marvel hero? Well, Wolverine was allegedly inspired by the DC superhero Timberwolf. Due to his ability to heal, the color of his outfit, and his hair, he is Wolverine's polar opposite. The only thing that separates them is their claws, which are quite similar to each other despite Timberwolf's sharp claws not being like Wolverine's retractable ones. But, officially Wolverine was created for Marvel Comics by writer Len Wein and artist John Romita.
What is Wolverine's history?
Did you know that Wolverine actually are father to Jimmy Hudson? James Hudson and Wolverine served together in the Iraq War, and James was given guardianship of Wolverine's infant kid. To make the adoption legitimate, Jimmy's surname name was changed from Howlett to Hudson. Jimmy's origins were kept a mystery up until his senior year of high school. Wolverines son – Jimmy didn't realize he was a mutant when he was a child, but he always felt unique and rejected the idea that he might be one.
In movies we saw that Hugh Jackman who played Logan in several movies, had to play very different scenario/story line whan it's in comic books. For the first time Wolverine appeared in our TV screens in 2009. X-Men Origins: Wolverine (2009) showed us remarcable MCU story line with new characters. At the movie we saw that Logan a.k.a. Wolverine was made in laboratory. But did you know that in comics, originally he got such powers from his birth parent.
Just to clarify, who is Wolverine?
Wolverine is a fictional character that appears in American comic books published by Marvel Comics, typically in conjunction with the X-Men. His real name is James Howlett, but he also goes by the aliases Logan and Weapon X.
Other interesting information
Who is Deadpool in Wolverine?
One of the worse films in the Fox X-Men film series is frequently cited as X-Men Origins: Wolverine. And the portrayal of Wade Wilson, a.k.a. Deadpool, in the movie has drawn some of the most severe criticism. Fans were ecstatic to see The Merc With the Mouth on the big screen when it was released in 2009.