6 Over-The-Knee Boots That Are Just As Stylish As Stuart Weitzman For Less Than Half The Price
6 Over-The-Knee Boots That Are Just As Stylish As Stuart Weitzman For Less Than
Half The Price
We've found fabulous over-the-knee boots to pair with your oversized knit sweaters throughout winter & early spring & they all make great Stuart Weitzman alternatives.
If you purchase an independently reviewed product or service through a link on our website, we may receive an affiliate commission. 
The season of rocking oversized cable-knit sweaters is here, and nothing goes better with such pieces than a pair of over-the-knee boots. The combination has created the lampshading fashion phenomenon, which celebrities like Ariana Grande have made popular. Stars have especially turned to luxury shoe designer Stuart Weitzman for such boots, but let's get a real: while beautiful, a standard black over-the-knee boot from the brand can cost you hundreds of dollars.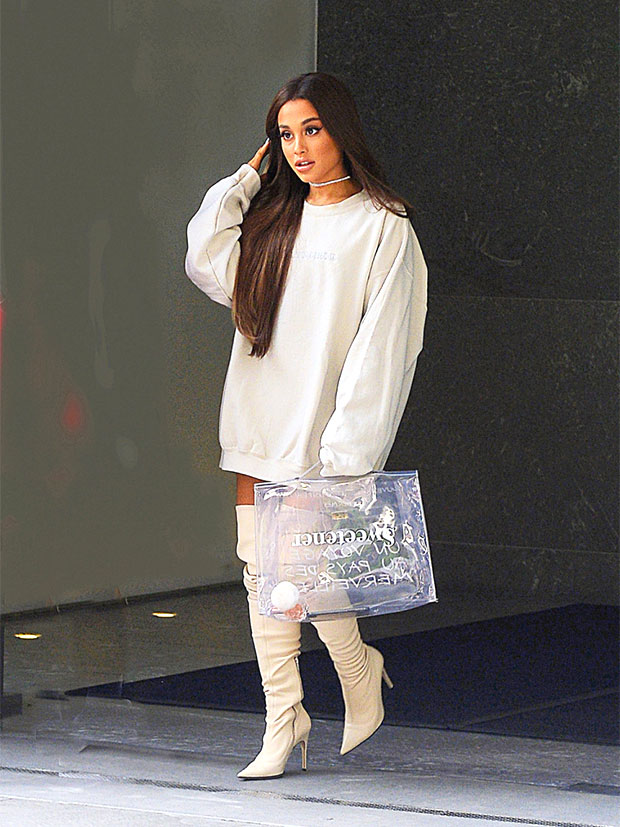 For our readers who just want to throw a pair of long boots over your jeans, we've found these great Stuart Weitzman alternatives for half the price. Now, check out these boots and imagine how cute you'd look in them while posing for pictures:
1. Steve Madden Tava Over the Knee Boot
We're starting this list with a classic pair of suede, over-the-knee boots from Steve Madden. These boots are extra tall so you won't have to worry about them bunching up around your knees. You'll be extra taller, too, thanks to the boots' 3 1/2 inch high heel. Shoppers raved over these boots, with many noting how they are "obsessed" and they have an "Amazing fit!" $70, nordstrom.com

2.
N.N.G's Winter Over Knee Long Boots
These boots are a No. 1 best-seller on Amazon, with more than 3,600 reviews and a 4.5-star rating. We put these boots on the list because they have structure. We get how frustrating it can be when your over-the-knee boots keep falling down, which defeats the whole purpose of buying boots this tall in the first place. Many reviewers happily noted that these boots, which come with a two-inch heel, actually stay put. "I have thin legs and this is the only boot I've ever owned that actually stays up," one customer wrote, while another commented, "They also dont go down my legs as I walk which was initially my concern since they dont have laces that I can tighten at the back." These great Stuart Weitzman alternatives are available in sizes 5.5-10, and are currently six percent off on Amazon. $50, amazon.com 
3.
Mtzyoa's Thigh High Block Heel Boot
Now, let's switch it up a little by adding a pair of brown boots to this list. Well, these are technically taupe, but come in many colors like pink, grey, hot red and nude too. These over-the-knee boots are so long, they reach up to your thighs — perfect to wear with a mini skirt or extra short dress, or even an oversized T-shirt. More than 2,100 customers left reviews on Amazon for these boots, with many raving over the suede material and fit of these shoes. "The quality is excellent," one reviewer noted, while others commended the boots for being "buttery soft" and "comfortable." They also loved the heels on the boots, which stand at a modest height between two-three inches. These boots are available in sizes 5.5-10. $50, amazon.com 
4.
DREAM PAIRS Faux Suede Over The Knee Thigh High Boots
For our readers who prioritize comfort first, here are a pair of boots with no heels at all. This faux suede pair from DREAM PAIRS even has a drawstring on the back, just like the original pair of Stuart Weitzman over-the-knee boots do. The stretchy material means you can wear these boots up to your thighs, and scrunch them down if you feel like switching up your look. More than 2,500 customers reviewed these boots on Amazon, leaving compliments like how these boots are "SO comfortable,"  the drawstring helps "keep the boots from falling down," and the shoes are "true to size." Speaking of the fit, these boots are available in sizes 5-11. While the boots below are gray, they also come in black, blue, brown and khaki. $53, amazon.com
5.
Cape Robbin Kelsey-21 Cowboy Boots
Over-the-knee boots don't need to be just one solid color. If you're looking for boots with a little extra flair, we're obsessed with this pair from Cape Robbin. The cowgirl-inspired print and bold style is sassy, unique, yet still on-trend. Pair these one-of-a-kind boots with daisy dukes or an oversized neutral tone tee to look like you just walked out of a Vogue magazine. You really can have fun with these western boots, because they come in all kinds of colors: black, white, baby blue, stone, multi, denim and terracotta. If you're nervous about trying out such standout boots, don't be: over 2,000 people reviewed these boots on Amazon and left an average rating of 4.6 stars out of five stars. $60, amazon.com 
6. UGG Over-The-Knee Boots
We're ending this list with something a bit more experimental: over-the-knee UGG boots. You read that right. These suede boots will keep your feet and legs warm all winter long with ultra-cozy, 100 percent wool lining inside. There's also no heel, which only maximizes the comfort level of these UGG shoes. Given that these are UGG boots, they're a bit more on the pricier side, but still less than half the price of Stuart Weitzman's classic "The Lowland Boot," which retails for $798. These boots are available in sizes 5-12. $180, amazon.com 
Sexiest Images of Megan Fox
The secret to Megan Fox's sexiest looks is bodycon dresses, leather, and crop tops.
Since the early 2000s, when Megan Fox first appeared on the scene, she has been a Hollywood bombshell. Totaly sexiest women in whole Hollywood. She flaunts her seductive looks on Instagram when she's not preoccupied with being a member of one of the most popular celebrity couples right now. L'OFFICIEL looks at some of Megan Fox's sexiest outfits, including everything from corsets to nude dresses.
Take a look at these images of Megan Fox:
Megan Fox's Most Sexy Images Ever: Red Carpets, Date Nights, and More
One of the hottest ladies in Hollywood, Megan Fox understands just how to capitalize on her appeal when she walks the red carpet or goes on a date. The celebrity, who was born on May 16, 1986, popularized lingerie-inspired designs by frequently wearing lacy bralettes, corsets, and strappy dresses. The bombshell lady became a brand ambassador for the lingerie company Frederick's of Hollywood and has since frequently posed in seductive outfits for the designer's underwear advertisements.
Megan Fox is SEXY!
Megan looked stunning in a sheer, lacy bodysuit from the lingerie line when she made an appearance at a Forever 21 event in March 2018 to promote the lingerie partnership between the fast-fashion company and Frederick's. She wore the undergarment item with black Christian Louboutin shoes and ribbon-belted Miaou jeans.
Looking for more gorgeous images of the "Jennifer's Body" star? Then browse this gallery to discover more of the sexiest shots of Megan Fox ever taken.
Look at these amazing pictures:
Look at Megan Fox: Fabulous 1970s Outfit!
Megan Fox is fabulous. She just posted several images of herself on Instagram wearing a costume with a 1970s theme that she appears to be about to burst out of.
Megan Fox is back with another sexy and colorful dress and a caption that goes with it, proving that she has a great sense of humor. The actress shared a number of images of herself wearing a very obvious 1970s ensemble on her Instagram feed. She is wearing a shirt that is quite tight on her, trendy slacks that barely contain her legs, and this combination normally garners her a ton of attention on social media.
The only thing that people notice about Megan Fox, according to her amusing caption, is how brilliant she is, which is ironic given that she looks like she's about to burst out of her clothing. Apart from her attractive clothing, her cleverness in delivering such a clever caption was unquestionably what caught our attention right immediately. The aforementioned post has received almost 2.1 million likes and 7,000 comments, demonstrating how popular Fox's intelligence and attire were.

Megan Fox is currently as busy as ever, with the release of three new films, despite almost bursting out of her own clothes. In her debut film, Johnny & Clyde, a parody of Bonnie & Clyde, Fox plays a serial killer who has fallen in love with her accomplice in crime. Although the movie is finished, a release date has not yet been set.
The Expendables 4, the concluding installment in Sylvester Stallone's enduring action star ensemble series, has also wrapped up filming for Megan Fox's part. Along with many others, Fox joins Stallone, Jason Statham, 50 Cent, Dolph Lundgren, Tony Jaa, Iko Uwais, Randy Couture, and Andy Garcia. Although we are unsure of the exact release date because the film is still in post-production, we believe it will be a summer blockbuster. The movie has a 2023 release date window.
Following those two more mature films, Megan Fox will shift her focus to a family-friendly project by providing the voice of the animated movie Naya Legend of the Golden Dolphin. The family-friendly film has quite a large cast, including Fox, Kate Winslet, Elliot Page, and Gerard Butler, even though it may not be on everyone's radar. Also scheduled for release in 2023 is this film.
No matter what she wears and shares on social media, fabulous Megan Fox always grabs attention. She also frequently makes news with her fiancé, Machine Gun Kelly. In all honesty, we applaud her for always appearing to be able to bear the spotlight with dignity because we know she must deal with lots of detractors on a regular basis, even if she may not give them the attention they need.
Megan Fox has an impressive 20.6 million Instagram followers, which may be due to the fact that she consistently shares pictures of herself wearing stylish and attractive attire or because her captions are pretty funny. In any case, she looks stunning as usual, despite the fact that the gown she is wearing above appears to be about to come undone.