'Grey's Anatomy' Recap: A Grey Sloan Doctor Quits In The Aftermath Of Owen's Accident
'Grey's Anatomy' Recap: A Grey Sloan Doctor Quits In The Aftermath Of Owen's
Accident
Owen managed to survive the car crash, but there was major fallout on 'Grey's Anatomy.' One Grey Sloan doctor quit, and two more acted on their feelings for each other.
Ben gets the call about Owen's car going over the cliff and wants to put a rush on the rescue as soon as the team arrives. The car is now in the ravine. While Andy makes a plan, Ben begins to get restless. He doesn't want to waste any more time, so he starts without Andy's permission.
Sullivan follows Ben down the ravine. Ben calls out for Owen, and they stumble upon the driver of the car. They check his pulse. He's dead. Ben and Sullivan soon find Owen's car. Owen is alive, but he is gravely injured. His left leg is actively bleeding and broken.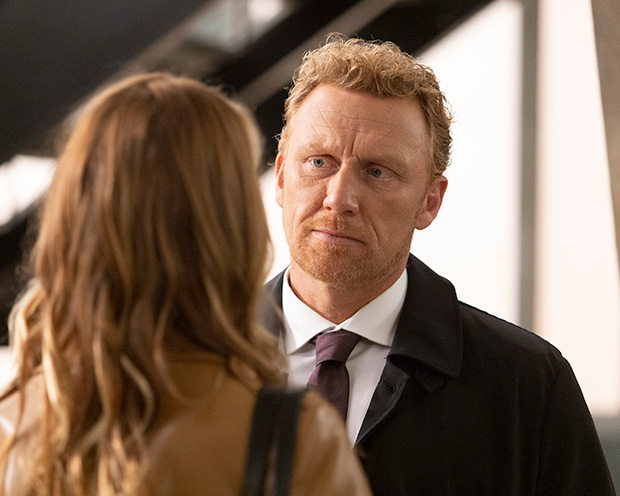 Owen Is Alive & Rescued
The team soon arrives and everyone works to extricate him from the car. Owen wants to tell Ben something if he doesn't make it, but Ben refuses to hear it. Owen begins to freak out during the rescue, but Sullivan settles him down. They get him out and have him lifted by a harness out of the ravine. Ben, not wanting to leave Owen's side, hitches a ride on the harness.
Hayes gets the heart to Grey Sloan in one piece. However, Winston realizes the heart is bruised. He asks for Maggie to be paged. Winston and Maggie argue about the heart. Winston wants to use the heart, while Maggie thinks they should wait for a new one. Winston believes this is their shot to save Farouk. He's going to take this chance.
Owen is awake and begs Amelia to not tell Megan that he's hurt. When Amelia goes to update Teddy, she says that Owen is alive and that's all that matters. Link and Amelia both think Teddy to get checked out, but she is just so completely shaken by what happened. Amelia says that Owen needs to see her. After talking with Teddy, Link gives Amelia the cold shoulder. He doesn't tell her that he saw that kiss.
Bailey & Richard Are At Odds
In the aftermath of Schmidt's surgery gone wrong, Bailey and Richard get into a fight. She wants to pull the Webber Method as soon as possible. Schmidt overhears everything. Schmidt hasn't said a word since leaving the OR. He continues to wash his hands, over and over again. Later, Jo finds Schmidt still scrubbing his hands. He won't stop and rubs his hands until they bleed.
Wright and Taryn come to help Jo with Schmidt. Wright helps get Schmidt away from the sink. He ends up carrying Schmidt out before he does any more damage to his hands.
Hayes runs into Meredith and tells her about the accident. He gets emotional and admits that his life flashed before his eyes. When she learns that Owen and Teddy were also in the crash, Meredith rushes to see what the latest update is. This surgery has to go perfectly or Owen could be paralyzed for life.
Link and Amelia fight over which surgery takes priority. The decision is made to do the surgeries simultaneously. Before he goes into surgery, Owen demands to speak with Hayes. They quickly talk about the soldier situation, and Hayes is noticeably conflicted about the whole situation. While Owen is in surgery, Hayes goes to see Megan in the chapel. He pleads with her to get some help, and then tells her about the accident.
Amelia & Link Fight Over Kai
Amelia soon realizes that Link knows about the kiss when he demands everyone clear the gallery when Kai walks in. Owen comes out of surgery in one piece, and Amelia confronts Link about how he's treated her about the kiss. Link goes off on Amelia, and Amelia fires back. She tells him that he's gaslighting her into thinking that she played him. Meanwhile, Link believes Amelia is gaslighting him.
Farouk's donor heart beats on its own. Maggie and Winston go to see Megan and tell her the good news. They tell her that his heart is beating, and it's beating well. Megan is overjoyed. Neither Winston nor Maggie mention that the heart was bruised.
Hayes goes to see Bailey, who is thrilled that Owen is going to be okay. Instead of telling Bailey about what Owen's done, Hayes quits. He says he's going back to Ireland. Bailey asks for Hayes to wait until Owen recovers, but Hayes refuses. He's resigning immediately.
Jo & Link Act On Their Feelings
Amelia meets Kai at the bar after Owen's surgery and explains her complicated romantic history. "I hate that broke his heart, and I hate that he made me break it all over again," she admits. As Amelia and Kai bond, Link is commiserating with Jo. She cheers him up and tells him to not "suffer anymore." That's when these two finally kiss. "This is a bad idea," Link says. "Is it?" Jo asks before they proceed to have sex.
Nick shows up in Seattle to be with Meredith. Bailey and Richard are no longer talking in the fallout of Schmidt's disastrous surgery. Nico finds a distraught Schmidt outside the hospital. They sit together in silence. Owen wakes up from his surgery to find Teddy by his side. She tells him that Hayes put in his resignation. "What happened in that car, Owen?" she asks.
Most attractive ladies of the twentieth century
These ladies are so beautiful that it's difficult to take your gaze away from them.
The "Bright Side" portal has chosen the world's twenty most beautiful ladies. Do you think they're the most appealing?
Most attractive ladies of the twentieth century:
Monica Bellucci
Mila Kunis 
Angelina Jolie
Penelope Cruz
Scarlett Johansson
Jennifer Aniston
Megan Fox
Salma Hayek
Christina Hendricks
Jennifer Lopez
Christina Aguilera
Gisele Bundchen
Shakira Shakira
Kate Moss 
Katherine Heigl 
Monica Bellucci is pleased with her new relationship after a difficult split
Monica Bellucci, one of the world's prettiest actresses, is in love and a new relationship. True, the woman acknowledges that the split with Vincent Cassel was really tough for her.
But the famous movie actress is now happy and free of thoughts about her previous romance. True, fans of the duo continue to remind her of their relationship. According to starhit.ru, the representatives of the cinema themselves agreed to separate amicably and politely, retaining a wonderful connection and respect.
While Mr. Cassel enjoys his connection with his wife, Monica, who has just turned 20, is considerably more wary about her new romance. And, after initially refusing to comment on the novel, she has now confirmed that she is no longer single.
The 54-year-old star is not only still working in the film industry, but he has also preserved the position of sex symbol. Her social media photographs are still being remarked on by adoring followers. True, the actress does not highlight this and has stated repeatedly that exterior beauty has never been her top priority.
Despite the very traumatic divorce, she keeps working, raising her two girls, and bringing up her new love on a regular basis. She mentioned it in the Instagram comments.
But for the time being, she merely claims she is able to believe in love and trust her spouse again. She previously stated that she felt disoriented and dissatisfied following a two-decade romance. In an interview with Paris Match, the actress stated that a completely new and fantastic time in her life has begun. And, while the magazine just hinted at the new relationship, it showed that happiness is also dependent on a new crush.
Monica Bellucci ended her relationship with a much younger lover: "We will be friends until the end of our lives."
The famous Italian actress Monica Bellucci's romantic connection with the young artist Nicolas Lefebvre took an unexpected turn. The 54-year-old actor and the 36-year-old artist are no longer together. Ms. Bellucci revealed the split in an interview with a French newspaper.
According to galpost.com, the actress claimed that while the couple's love connection has ended, they intend to remain friends. Ms. Bellucci did not give a reason for the breakup, according to galpost.com.
"Of course, Nicholas and I adore one other. He was a great teacher to me. He is a gifted individual with exceptional artistic ability. Unfortunately, our connection will alter from now on; we will stay friends until the end of our lives," M. Bellucci said.
This is the Italian actress's first meaningful relationship after her sad breakup with French actor Vincent Cassel. The young artist's romantic relationship is thought to have begun in December, when the paparazzi managed to picture the two meeting surreptitiously. There was no mistake about it: the couple kissed on the street and exchanged pleasant feelings.
Bellucci and Lefebvre made their first public appearance together in March, at an event in Madrid. The performance of the duo has piqued the interest of the international media. According to M. Bellucci, the relationship's secrecy drew her and N. Lefebvre very close. She and her ex-lover shared similar viewpoints and hobbies, including a love of travel.
"I've been dating the same person for a long time, and everything is OK." His job requires him to travel extensively over the world. That's why he completely understands me and approves of my lifestyle. "I am overjoyed," M. Bellucci previously stated.
It is only fitting to recall that the actress, regarded as one of the most beautiful women in the world, was married twice. Claudio Carlos Basso, an Italian photographer, was Bellucci's first husband. In the 1990s, the pair married and divorced in 1994. On the shooting of the film "L'appartement," M. Bellucci met French actor V. Cassel. The actors' wedding took place in 1999. The couple was the parents of two girls. Elder Deva is an exact replica of her famous mother. M. Bellucci and V. Cassel announced their divorce in August 2013.