Tou Thao: 5 Things To Know About Officer Convicted Of Violating George Floyd's Civil Rights
Tou Thao: 5 Things To Know About Officer Convicted Of Violating George Floyd's
Civil Rights
The three officers present as Derek Chauvin kneeled on George Floyd's neck were convicted of violating civil rights. Tou Thao could face 40-years in prison after being hit with aiding and abetting 2nd-degree murder.
UPDATE 2/24/22 9:30 pm EST: Tou Thao was one of three officers convicted of violating George Floyd's civil rights after they failed to get medical attention for him as ex-officer Derek Chauvin pressed his knee on his neck, ending his life. He and J. Alexander Kueng were also charged with failing to intervene as Chauvin harmed Floyd. His trial for aiding and abetting second-degree murder will commence in June.
UPDATE 6/5 3:20pm EST: Two days after Thomas Lane, Tou Thao, and J. Alexander Kueng were charged with aiding and abetting second-degree murder and aiding and abetting second-degree manslaughter, the Minneapolis has banned the use of chokeholds by police. The agreement, which comes in conjunction with the Minnesota Department of Human Rights, means that any officer is required to immediately report the use of neck restraint or chokehold to their commander or their commander's superiors.
If an officer sees a colleague try to chokehold anyone, they must intervene verbally, or physically if necessary. Failure to do so means they could face punishment as severe as the officer committing the prohibited action, according to the Associated Press. Additionally, the police chief or a deputy chief must authorize any use of chemical agents, rubber bullets, flash-bangs, batons, and marking rounds.
UPDATE 6/4 3:20pm EST: A judge set bail at $1,000,000 apiece for Thao along with Thomas Lane and J. Alexander Kueng on Thursday, June 4, while they made their first appearance in court. Derek Chauvin, who has been charged with 2nd degree murder in the death of George Floyd, has his set at $500,000.
Former Minneapolis Police Department officer Tou Thao was charged for his role in the death of George Floyd on June 3. The ex-officer, who was involved in a prior instance of police brutality before George's death on May 25, was charged with aiding and abetting second-degree murder and aiding and abetting second-degree manslaughter. Previously, it looked as if only ex-officer Derek Chauvin would be charged. The man seen kneeling across George's neck in the viral video was hit with counts of second-degree murder, third-degree murder, and one charge of manslaughter.
Minnesota Attorney General Keith Ellison announced the charges in a June 3 press conference: "We're here today because George Floyd is not here. He should be here. He should be alive but he's not." He went on to say, "Today I filed an amended complaint that charges former Minneapolis police officer Derek Chauvin with murder in the second degree for the death of George Floyd. I believe the evidence available to us now supports the stronger charge of second degree murder." (Aiding and abetting second-degree murder is punishable by up to 40 years in prison, while aiding and abetting manslaughter is punishable by up to 10 years in prison.)
"Second, today arrest warrants were issued for former Minneapolis police officers J. A. King, Thomas Lane and Tou Thao. Finally, I'd like to announce that today Hennepin County Attorney Michael Freeman and I have filed a complaint that charges police officer King, Lane and Thao with aiding and abetting murder in the second degree, a felony offense. I strongly believe that these developments are in the interests of justice for Mr. Floyd, his family, our community and our state."
George Floyd's killing sparked outrage and protests across the world, and millions demanded justice. As the world continues to protest the systemic racism and others await to see what happens to the four men involved in Floyd's death —  Chauvin, Thao, Thomas Lane, and J. Alexander Kueng – here's what you need to know about former MPD officer Thao.
1. He arrived on the scene alongside Officer Chauvin.
It was officers Lang and Cheung who first approached George Floyd on May 25. A clerk at the Cup Foods market reported that a man bought merchandise with a counterfeit $20 bill, according to the criminal complaint filed by the Hennepin County Attorney. According to the document obtained by HollywoodLife, Thao and Derek Chauvin arrived on the scene around 8:14.
2. Thao didn't get physically involved in the incident.
Unlike officers Chauvin, Lane, and Keung, Tou Thao didn't physically touch George Floyd during the fatal encounter. Thao instead interacted with eyewitnesses. He's seen in the viral video instructing onlookers to "get back on the sidewalk" while the three other officers pressed George Floyd down to the ground. From there, Chauvin was seen kneeling across George's neck while the man pleaded for mercy. Around 8:24, about ten minutes after Chauvin and Thao arrived on the scene, George stopped moving.
3. He left Minnesota after the video of George Floyd's death went viral.
Thao started with the MPD as a community service officer, according to the Star Tribune. He went through the academy in 2009. Tou was laid off for two years and returned to the department in 2012.
His lawyer, Criminal defense attorney Robert Paulie, told the Star Tribune that the fired cop fled Minnesota following the outrage over George's death and he was "safely elsewhere."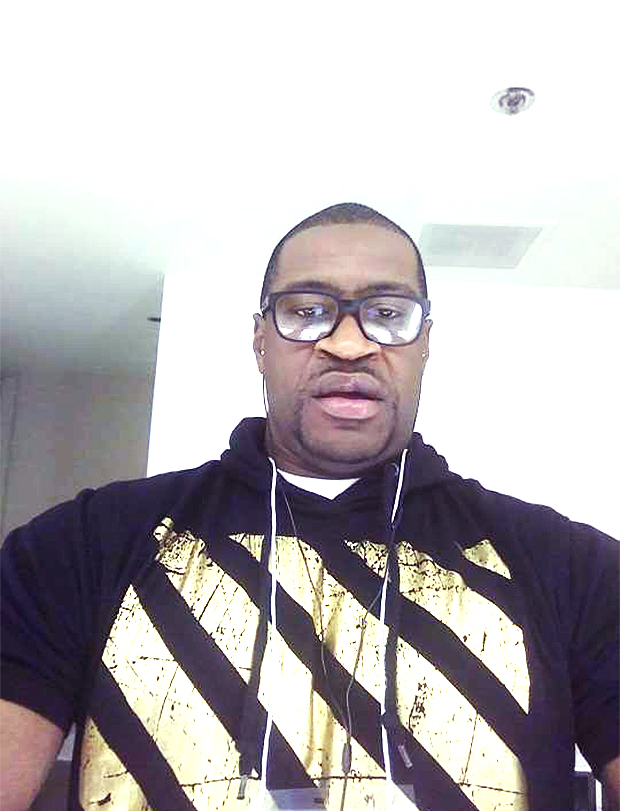 4. Tou Thao was involved in a previous police brutality incident.
Thao, along with another unnamed officer, was involved in a 2017 police brutality lawsuit, according to the Star Tribune. Lamar Ferguson alleged that, in 2014, two officers told him they were serving him a warrant for his arrest. They then allegedly beat him and broke his teeth while he was handcuffed. The city of Minneapolis paid $25,000 to settle the civil rights case. "They had no reason to stop me, they started asking me a whole bunch of questions, where I was going," Lamar told The Sun. "[Thao] was the most aggressive one, I was in handcuffs within the first few minutes of the incident. I was horrified."
Thao, according to the Star Tribune, also had "six unspecified police conduct complaints" filed against him. Five were "closed without discipline," but one was open at the time of his firing.
5. He was the subject of a false conspiracy following his firing.
After the four MPD officers were fired over George Floyd's death, social media posts alleged that Tou's sister was Derek Chauvin's wife, Kellie Chauvin. "Tou Thao is NOT Ms. Chauvin's brother. I would GREATLY appreciate help putting that rumor to rest," Amanda Mason-Sekula, her divorce lawyer, said in an email, per the Washington Post.
"Her family has been harassed and threatened based on multiple incorrect reports." Both Kellie and Thao are Asian. She was born in Laos in 1974, and her family fled to Thailand in 1977. She competed for the title of Mrs. Minnesota in 2018, in hopes of becoming the first Hmong winner. Kellie does have a brother who is a cop, but he's a police officer in St. Paul and was not involved in any aspect of George Floyd's death.
Who Looks More Stunning in a Red Dress, Scarlett Johansson or Elizabeth Olsen?
The youngest Olsen sibling, formerly dwarfed by her older sisters, has grown up. She claims to be 32, although she seems much younger. At Saturday night's 33rd Film Independent Spirit Awards in Los Angeles, Elizabeth wowed in a bold red sheer lace Zuhair Murad outfit that highlighted her amazing physique. The actress looked both sultry and refined in her choice of wardrobe. One of the actors that caught our attention was Elizabeth Olsen, who donned a Zuhair Murad bespoke gown and Jimmy Choo stiletto sandals. Her all-ruby-red outfit is stunning and clearly draws inspiration from the designer's spring/summer 2018 collection. A thin lace dress like Elizabeth's would look stunning in this colour of red for an evening out on the town. The midi-length gown accentuates her figure thanks to the mirror-image lace work down the garment and the corset-style bodice. Check out her attire below: –
Scarlett Johansson, who also appeared in "The Avengers," wore a garment quite identical to the one in question. She didn't wear it to an event, but the photographs she snapped of herself in it are undeniably sultry. Her hair was done in a classic updo, and she wore minimal makeup. Her cherry red dress matched the colour of lipstick she was carrying, and her eyes were captivating. While the overall style of her clothing was comparable to that of Elizabeth's, the shearing pattern was unique to her own. Look at Scarlett in that dress: –
How Monica Bellucci always looks so young
30 September 2014 The actress Monica Bellucci will be 50. She is still one of the most stunning and seductive ladies on the planet despite being far from youthful.
A gathering was hosted in Moscow in March 2014 to celebrate the launch of a new Dolce & Gabbana store. The party's primary attraction was the incomparable Monica Bellucci. Domenico Dolce and Stefano Gabbana, two fashion designers, and the actress have a close bond. In the late 1980s, Bellucci made her modeling debut in the Dolce & Gabbana show. She has been promoting this fashion brand's clothing, perfumes, and cosmetics for about ten years now. The journalists, Russian celebrities, and ordinary admirers of her talent described the Italian actress as luxurious, sophisticated, exquisite, and singular. The actress, who is approaching her 50th birthday, looks gorgeous despite her recent divorce.
One of the few women who age gracefully is Monica Bellucci. She encourages all women to follow her lead because she has figured out how to accept herself at any age. The Italian beauty's visage makes it clear that she resisted the trend for "beauty injections" and only occasionally makes use of cosmetic surgery's advancements. This makes Monica Bellucci appear really authentic. Bellucci is stunning without makeup and has traditionally attractive facial features. However, the actress acknowledges that she finds it impossible to envision her existence without makeup. She loves lipstick and mascara for beauty goods. Her brown eyes are highlighted by the eyeshadow's delicate selection of light gray or brown hues.
The key elements of Monica Bellucci's look include a floor-length dress, high heels, natural makeup, and beautiful black hair. This actress has frequently appeared on lists of the sexiest and most attractive women in the world. The Italian movie star's physique might be used as the benchmark for femininity. She doesn't make an effort to meet the expectations of beauty set by Hollywood and the fashion industry. Monica's weight stabilized at around 68 kg after the birth of her second child, but the actress was in no rush to start a diet. She was breastfeeding, which was her main concern.
Monica Bellucci has frequently stated that she doesn't take any additional measures to maintain her physical fitness. She doesn't exercise or follow a diet. The actress chuckles and says, "I'm too lazy for that." The actress prefers to wear black clothing that conceals her imperfections rather than working out at a gym until she is exhausted. If she wants to drop weight for a certain job, she just switches to lower-calorie foods, and the pounds naturally disappear. With a height of 175 centimeters, Monica weighs between 64 and 66 kg. By Hollywood standards, this is almost a catastrophe. However, Bellucci has always stood out since she never tried to uphold the standards.
Unknown Facts About Monica Bellucci
Italian model and actress Monica Anna Maria Bellucci. She is frequently considered as one of the most stunning ladies in the world.
About Monica Bellucci
The only child of Brunella Briganti and Pasquale Bellucci, Monica Anna Maria Bellucci was born on September 30, 1964, in the Italian village of Città di Castello, Umbria.
She holds Italian nationality. Brunella Briganti and Pasquale Bellucci's only child is Monica Bellucci.
When Monica Bellucci was a teenager, she began modeling. She first appeared in Bram Stoker's Dracula and The Apartment after working as a model. Early in the 1990s, Bellucci's film career got underway.
She cemented her status as an actress in 1996 when she was nominated for a César Award for best supporting actress for her depiction of Lisa in The Apartment.
Bellucci played Persephone in the popular science-fiction sequel to The Matrix, The Matrix Reloaded, which debuted in 2003. The two were nominated for best kiss at the MTV Movie Awards for their on-screen liplock with co-star Keanu Reeves.
Two national publications claim that Italian is regarded as a sex symbol.
After that, Bellucci focused on all things biblical, portraying Mary Magdalene to Jim Caviezel's Jesus in the Mel Gibson-directed The Passion of the Christ (2004). Immediately after that, Bellucci starred as the Mirror Queen alongside Matt Damon and Heath Ledger as the title characters in the fantasy-action adventure The Brothers Grimm (2005).
She briefly studied law before opting to pursue modeling.
Bellucci Love Life
In 1990, she wed the photographer Claudio Basso; however, the couple separated in 1994.
Claudio Carlos Basso 1. (1990-1994)
Vincent Cassel 2. (1999-2013)
Bellucci continued to split her time between Hollywood assignments and European film appearances. She co-starred in the 2000 film Under Suspicion alongside Gene Hackman, and the same year, she won praise for her moving portrayal of a wife who is torn apart by war in the Italian-language drama Malèna.
Before divorcing in 2013, she married Vincent Cassel, with whom she had two daughters: Deva in 2004 and Leonie in 2010.
Bellucci Family
1. Deva Cassel (daughter with Vincent Cassel)
2. Léonie Cassel (daughter with Vincent Cassel)
She posed half-naked for the Italian Vanity Fair magazine's April 2010 issue while she was carrying her daughter Deva in 2004 in an effort to draw attention to the country's ban on sperm donations.
Bellucci continued to split her time between Hollywood assignments and European film appearances. She co-starred in the 2000 film Under Suspicion alongside Gene Hackman, and the same year, she won praise for her moving portrayal of a wife who is torn apart by war in the Italian-language drama Malèna.
Later, Bellucci co-starred with Rachel Weisz in the 2010 true-crime film The Whistleblower and Robert De Niro in the 2011 Italian romantic comedy The Ages of Love. She also gained notoriety when she was chosen to play the next "Bond Girl" opposite Daniel Craig in the 2015 film Spectre, making her the oldest actress to ever portray the superspy's love interest in the James Bond film series.
It was named Dolce & Gabbana's advertising spokesperson in 2012.
Bellucci and her then-husband Cassel co-starred in the historical action movie Brotherhood of the Wolf two years later.
Monica is dating Mountain Jew millionaire and entrepreneur Telman Ismailov.
Ettore Scola's A Special Day is her favorite film. Her favorite actresses are Claudia Cardinale and Sophia Loren. She can sing, and acting is his love.